Odysseia
11-19 August 2022
Homer's epos of Odysseus and his journey back home to Ithaka is a tale as old as time. We all know the story that stands for the greatness of human endurance, strength and ingenuity. The mindset of never giving up and overcoming all adversity and even godly obstacles is the basis of this story, but its message is relatable to the most current of events.
With this theme, we want to highlight the journey that people embark on in the most difficult and unpredictable of circumstances in hope for a better tomorrow. Whether that journey is literal or emotional, human life is a series of journeys filled with experiences that shape our identity.
Programme
11.08
Lost Homelands
Castle of Mytilene 20:15
Admission free
The Molyvos International Music Festival includes this year's opening acts into the 2nd Festival of the North Aegean Region.
With the kind support of the Ephorate of Antiquities of Lesbos.
A guided tour of the archaeological sites will take place before the concert.
Thomas Simaku (b. 1958)
Albanian Folk Song "My Beautiful Morea"
Arranged for clarinet and guitar by Thomas SimakuJoaquín Rodrigo (1901-1999)
Tres pequeñas piezas [Three Small Pieces] for Guitar Solo
1. Ya se van los pastores [The Shepherds Are Already Leaving]
2. Por caminos de Santiago [In the Streets of Santiago]
3. Pequeña Sevillana [Little Sevillian]Béla Kovács (1937-2021)
Hommage à Manuel de Falla for Clarinet SoloFranz Schubert (1797-1828)
"Der Leiermann" [The Hurdy-Gurdy Man] from Winterreise [Winter Journey], Op. 89, D. 911
Arranged for soprano and guitarRobert Schumann (1810-1856)
"In der Fremde" [In a Foreign Land] from Liederkreis [Song Cycle], Op. 39
Arranged for soprano and guitarJohann Sebastian Bach (1685-1750)
Violin Sonata No. 3 in C Major, BWV 1005
Arranged for guitar
2. Fuga

Leó Weiner (1885-1960)
Two Movements for Clarinet and Guitar
1. Βúsuló Juhász [The Woeful Shepherd]
2. Csűrdöngölő [Barndance]

Danae Kontora soprano
Petrit Çeku guitar
Sebastian Manz clarinet
In this evening's concert, works from different periods and places, each with its own style and character, bring to life a marvellous variety of musical moods. Thomas Simaku's arrangement of My Beautiful Morea for clarinet and guitar underscores the beauty and tender nostalgia of this folksong from the Albanian community of Calabria. Joaquín Rodrigo's Tres pequeñas piezas for guitar solo (1963) is a stylistic tour de force that evokes with its expressive immediacy the characteristic sounds of Spanish traditional music, while Béla Kovács' virtuoso clarinet solo, written as a homage to Manuel de Falla, masterfully evokes the atmosphere we find in the work of the great Spanish composer. We are then transported through the peerless art of Franz Schubert and Robert Schumann to Romanticism's world of introspection, reflection, and pervasive melancholy, first with "The Hurdy-Gurdy Man" (1828), the final song in Schubert's Winterreise, his exquisite setting of poems by Wilhelm Müller, and then with "In der Fremde" (1840), the first song in Schumann's setting of poems by Joseph von Eichendoff. The emotional gravity of Romanticism yields its place to the clarity and lofty spirituality of Johann Sebastian Bach's music in the Fuga that follows, an arrangement for guitar of the second movement of the composer's Violin Sonata no. 3 in C major, BWV 1005, with a subject derived from the Pentecost chorale "Komm, Ηeiliger Geist, Herre Gott" [Come, Holy Spirit, Lord God]. The Two Movements for Clarinet and Guitar by the Hungarian composer Leó Weiner bring us back to an atmosphere laden with folkloric colour with the plaintive, melancholic "Τhe Woeful Shepherd" and the buoyant Dionysian "Barndance" that concludes the programme.
Maria Theophili
---
Τhe Castle of Mytilene
The trace of the ancient circuit is nowadays completely obscured. Only one stretch of the ancient fortification wall is visible in short length at the east side to the shore, near the circular—nowadays slipped—tower. Evidence for the fortifications of early Christian times is also not preserved, although the large number of churches known to us certifies the commercial and residential flourishing of the city in this era. As for the fortifications of the Byzantine period, these have been sporadically preserved, embedded in later fortification walls of the Gattelusi and the Ottomans. The fortification walls of the Byzantine period are characterised by the use of large marble blocks, taken from various ancient monuments that were already in a ruinous condition.
The space occupied by the Castle of Mytilene has been a natural stronghold since ancient times because it provided control for the two harbours of the city. The peninsula was initially an island, separated from the mainland by a strait known in antiquity as "Mytilenaean Euripus". The commute between the peninsula and the mainland was secured by bridges until the 15th century, when Euripus' canal was naturally embanked and finally sealed.
In its present form, the castle occupying an area of approximately sixty acres consists of three enclosures. The upper one, on the southeastern edge of the fortress is considered to be the last line of defense and houses the central defense tower and a gunpowder storehouse. The middle enclosure includes buildings such as the prison, the medrese (Muslim religious school) and the tekke (Muslim mausoleum), the Byzantine cistern and the crypt complex, as well as another gunpowder storehouse. This main enclosure was accessible through two gate complexes: from the South, which is still in use as the current access to the castle, and from the West through the so-called Orta Kapu. Other two smaller gates to the North of the enclosure serve the traffic to and from the houses of the Lower Castle, the Saplitza, the hammam, and the small chapel of Agios Ioannis; these buildings encircled by the seaside fortification wall compose thus the third enclosure.
12.08
Paths of Memory
Medieval Castle of Agioi Theodoroi (Ovreokastro) 20:15
Admission free
The Molyvos International Music Festival includes this year's opening acts into the 2nd Festival of the North Aegean Region.
With the kind support of the Ephorate of Antiquities of Lesbos.
A guided tour of the archaeological sites will take place before the concert.
Johann Sebastian Βach (1685-1750)
Partita in A Minor for Flute Solo, BWV 1013
1. Allemande
2. Corrente
3. Sarabande
4. Bourrée anglaiseYannis Constantinidis (1903-1984)
Suite on Popular Greek Melodies of the Dodecanese Islands for Violin and Piano
1. Air de Karpathos [Air of Karpathos]
2. Chant pastoral de Kalymnos [Pastoral Chant of Kalymnos]
3. Chant et danse de Rhodes [Dancing Song of Rhodes]
4. Danse de Leros [Dance of Leros]
5. Air d'Archanguelos (Rhodes) [Air of Archanguelos (Rhodes)]
6. Chant nuptial et danse (Sousta) de Rhodes [Dancing Wedding Song (Sousta) of Rhodes]Manolis Kalomiris (1883-1962)
Five Preludes for Piano
1. Molto agitato ed appassionato
2. Andantino piacevole
3. Appassionato con moto
4. Quasi recitativo-Andantino quasi allegretto
5. Leventika: Assai vivo e vigorosoGeorgios Kasassoglou (1908-1984)
Four Greek Dances for Flute and Piano
1. Allegretto piacevole
2. "Frauentanz". Poco Allegretto con espressione
3. "Männertanz". Maestoso
4. Poco Allegretto (con gracia)César Franck (1822-1890)
Sonata for Violin and Piano in A Major
Αllegro con spirito
Allegro
Danae Dörken, Kiveli Dörken piano
Odysseas Tsakalidis violin
Grigoria Papadopoulou flute
Splendid works of music by composers with roots in the Greek culture and society of Asia Minor, each rendering in its own way the colours of the rich palette of Greek musical tradition, share this evening's programme with masterpieces of the flute and violin repertoire. The programme begins with the emblematic Partita in A minor for Flute Solo, a suite of four dances written by Johann Sebastian Bach in the early 1720s, most likely for Pierre-Gabriel Buffardin, a renowned flutist of the period. Its grandiose Allemande, galloping Corrente, stately Sarabande, and lively Bourrée anglaise make for a work of imposing technical and interpretative demands, one that has become a milestone in the repertoire for the instrument. Yannis Constantinidis' Suite on Popular Greek Melodies of the Dodecanese Islands for Violin and Piano follows, written in 1948 and dedicated to Hara and Spyros Tombras. Folksongs from Karpathos, Kalymnos, Leros, and Rhodes are presented by the violin with warmth and clarity, while the piano provides an accompaniment at times discrete, at times more richly harmonious but always interesting.  Manolis Kalomiris' Five Preludes for Piano, written in September and October of 1939 ("Trygitis and Agios Demetrios, 1939"  in the composer's lovely note on the score) amply conveys the characteristic feel of its composer's expansive Late Romantic idiom. We then hear the last Greek work in the programme, Georgios Kasassoglou's Four Greek Dances for Flute and Piano in an arrangement by Norbert Studnitzky, with its characteristic melodies and marked rhythms. The concert concludes with the first two movements of the Sonata for Violin and Piano in A major by César Franck, an exquisite Romantic work, which following its premiere presentation in 1886 by the virtuoso violinist Eugène Ysaÿe, gained ever growing recognition to secure its place among the most important in the genre.
Maria Theofili
---
Ancient Antissa and its Territory
At the end of the 2nd millennium BC, Lesbos is mentioned by Homer as a single territory ruled by one king. Between 1130 and 900 BC, the Lesbian cities of Mytilene, Methymna, Antissa, Eresos, Pyrrha and Arisbe are founded as separate states. In the Αrchaic period, Antissa stands out nationwide thanks to the personality of the poet Terpander, to whom the emergence of the myth of Orpheus' head having ended up in Antissa, where it was kept in the Sanctuary of Dionysus, is probably owed to. The cave "Spilios" or "Magaras" was identified by scholars with Orpheus' oracle.
At the beginning of the Peloponnesian War, in 428 BC, Mytilene attacked Antissa, as well as the other cities of Lesbos, for Mytilene oligarchs to eradicate the substantial democratic share that existed in these cities. It was liberated from Spartan rule in 389 BC, during the operations of Thrasybulus on the island, and it joined the Second Athenian Alliance in 375 BC.
In Pseudo-Skylax' last reference to the Lesbian cities of the Classical period, at around the middle of the 4th century BC, Antissa and its harbour are mentioned. The Romans destroy Antissa in 167 BC and its land is annexed by Methymna. In the first half of the 2nd century AD, Antissa is noted by geographer Claudius Ptolemy as an unwalled settlement, which apparently remained in place until the Middle Ages.
In the Byzantine period, the so-called Castle of Agioi Theodoroi was established there. The fortress was built in the time of the Gattelusi and it is known by the name of Ovreokastro or Ovriokastro. Following the destruction of the castle by the Ottomans in 1462, the settlement inhabitants move to the inner countryside, southwest of the fortress, to the site called Telonia.
In 1931 and 1932, English archaeologist Winifred Lamb excavated test trenches in the wider area of Ancient Antissa. Excavations brought to light a building consisting of two construction phases, which was attributed to an early sanctuary. The building was dated to the 9th or the 10th centuries BC. In the 8th century BC, a second arch was built on the west side, thus, the building of Antissa became elliptical and it was divided internally into four spaces with new partitions. A slab of baked soil in the middle room was interpreted by Lamb as an altar. This alteration of the Sanctuary of Antissa is important, as the masonry added in the 8th century BC constitutes the earliest dated example of Lesbian masonry.
A large amount of bucchero grey ware was discovered in the early building, such as dinoi, kraters (wine mixing bowls), lekanides (basins), phialai (libation vessels), as well as parts of bronze fibulae (brooches). A grey-coloured kantharos (drinking vessel) of the 6th century BC inscribed Eumachos. According to the excavator, Eumachos is the owner of the vessel, who also made the dedication to the sanctuary.
Within the framework of the promotion of the archeological site of Ovreokastro or Ovriokastro, the Ephorate of Antiquities of Lesbos has been carrying out since 2019 extensive works aiming at revealing the medieval Castle of Agioi Theodoroi, and underlying antiquities beneath the medieval castle that date back to the beginning of the 1st millennium BC (10th-9th century BC).
1.Both are Greek folk names for months. September is called Trygitis (Harvester) as this is the month of the grape harvest. October takes its name from the feast of Agios Demetrios on October 26th.
Thomas Simaku
Albanian Folk Song "My Beautiful Morea"
Arranged

for clarinet and guitar

by Thomas Simaku
Petrit Çeku, guitar
Sebastian Manz, clarinet
Max Reger
Das Agnus Dei [The lamb of God], Op. 138,

No.

6 from Acht geistliche Gesänge [Eight sacred songs]


Arranged

for clarinet and string quartet

by Sebastian Manz

Sebastian Manz, clarinet
Clémence de Forceville, violin
Rosanne Philippens, violin
Sindy Mohamed, viola
Vashti Hunter, cello
Joaquín Rodrigo


Tres

pequeñas piezas [Three small pieces] for Guitar Solo
1. Ya se van los pastores
2. Por caminos de Santiago
3. Pequeña sevillana
Petrit Çeku, guitar

 
Max Reger
Nachtlied [Evening song] Op. 138,

No.

3 from Acht geistliche Gesänge [Eight sacred songs]


Arranged

for clarinet and string quartet

by Sebastian Manz

Sebastian Manz, clarinet
Clémence de Forceville, violin
Rosanne Philippens, violin
Sindy Mohamed, viola
Vashti Hunter, cello
Johannes Brahms
Piano Quintet in F Minor, Op. 34
1. Allegro non troppo
2. Andante, un poco adagio
3. Scherzo. Allegro-Trio
4. Finale. Poco sostenuto-Allegro non troppo
Rosanne Philippens, violin
Clémence de Forceville, violin
Adrien La Marca, viola
Timotheos Gavriilidis-Petrin, cello
Kiveli Dörken, piano

 
Zoltán Kodály


Esti dal [Evening song]




Arranged

for clarinet quintet by Sebastian Manz
Sebastian Manz, clarinet
Clémence de Forceville, violin
Rosanne Philippens, violin
Sindy Mohamed, viola
Vashti Hunter, cello
Sofia Gubaidulina
Serenade for Guitar Solo

 

Petrit Çeku, guitar

 
Arcangelo Corelli
Sonata in D Minor, Op. 5, No. 12, "La Folia" Variations
Arranged

for guitar and cello

by Valter Dešpalj
Petrit Çeku, guitar
Timotheos Gavriilidis-Petrin, cello
Wolfgang Amadeus Mozart
Clarinet Quintet in A Major, K. 581
1. Allegro
2. Larghetto
3. Menuetto
4. Allegretto con variazioni
Sebastian Manz, clarinet
Clémence de Forceville, violin
Byol Kang, violin
Sindy Mohamed, viola
Vashti Hunter, cello
Jean-Philippe Rameau
Les Cyclopes from Pièces de clavecin [Works for harpsichord]
Kiveli Dörken, piano
Claude Debussy
Sirènes (Sirens) from Trois nocturnes
Arranged

for piano solo

by Gustave Samazeuilh
Danae Dörken, piano
Dmitri Shostakovich
Two Pieces for String Octet, Op. 11
1. Prelude
2. Scherzo

 

Byol Kang, violin
Rosanne Philippens, violin
Jonian Ilias Kadesha, violin
Clémence de Forceville, violin
Adrien La Marca, viola
Sindy Mohamed, viola
Timotheos Gavriilidis-Petrin, cello
Benedict Klöckner, cello
Felix Mendelssohn
String Quintet No. 2 in B-flat

Major,

Op. 87
1. Allegro vivace
2. Andante scherzando
3. Adagio e lento
4. Allegro molto vivace
Antje Weithaas, violin
Jonian Ilias Kadesha, violin
Sindy Mohamed, viola
Adrien La Marca, viola
Vashti Hunter, cello

 
18.08
Young People's Concert
Transformations
19:00
Antonio Caldara


Come raggio di sol [

Like a sunbeam]

Wolfgang Amadeus Mozart


Sei du mein

Trost

[Βe my comfort], K. 391

Alessandro Scarlatti


Già il sole dal Gange [The sun over the Ganges] from

L' honestà negli amori [Honesty in love affairs]Franz

 

Schubert
Gretchen am Spinnrade [Gretchen at the spinning wheel], D. 118

Nur wer die Sehnsucht kennt (Lied der Mignon) [Only he who knows longing (Mignon's song)],

D. 877, No. 4

Danae Kontora, soprano
Danae Dörken, piano
Kiveli Dörken, piano
Johann Kaspar Mertz
An Malvina [To Malvina] for Guitar Solo from Bardenklänge [Bardic \ sounds], Op. 13
Petrit Çeku, guitar
Richard Strauss
Die Nacht [Night], Op. 10, No. 3


Amor [Cupid], Op. 68,

No.

5


Morgen [Tomorrow], Op. 27,

No.

4

Claude Debussy
ApparitionHenri Duparc
Lamento
Chanson triste [Song of sadness]
Danae Kontora, soprano
Danae Dörken, piano
Kiveli Dörken, piano
Eibhlís Farrell
Penelope Weaving for Viola Solo
Sindy Mohamed, viola
Attik
Apo mesa pethamenos [Dead from the inside]Michalis Sougioul
As erhosoun gia ligo [If you could come for a while]
Danae Kontora, soprano
Danae Dörken, piano
Kiveli Dörken, piano
Franz Schubert


Piano

Trio N

o. 1 in B-flat Major, D. 898
1. Allegro moderato
2. Andante, un poco mosso
3. Scherzo. Allegro-Trio


4. Rondo. Allegro vivace

Jonian Ilias Kadesha, violin
Benedict Klöckner, cello
Danae Dörken, piano
Costas Mantzoros, Nickos Harizanos
Ithaca (world premiere)
Work for actor / narrator, string trio and prerecorded materia
Actor / Narrator: Giorgos Giannarakos

Rosanne Philippens, violin
Adrien La Marca, viola
Benedict Klöckner, cello
Arnold Schönberg


Verklärte Nacht [Transfigured night],

Op. 4

Antje Weithaas, violin
Byol Kang, violin
Adrien La Marca, viola
Sindy Mohamed, viola
Benedict Klöckner, cello
Timotheos Gavriilidis-Petrin, cello
Petrit Çeku
Guitar
Petrit Çeku's exquisite sensibility and expressiveness have attracted and engaged audiences worldwide. He has performed recitals throughout the world and was a soloist with symphonic orchestras such as Baltimore Symphony, Calgary Philharmonic, Czech Chamber Philharmonic, Daejeon Philharmonic, Pannon Philharmonic, Zagreb Philharmonic among others. He collaborates regularly with the Zagreb Soloists and is a founding member of guitar ensemble Trio Elogio. Hailed by Calgary Herald as "an effortless player, with a strong, projecting sound", Çeku is the first prize winner of many international guitar competitions, including the most prestigious ones like Parkening (Malibu, USA), Schadt (Allentown, USA), Biasini (Bologna, Italy), and Pittaluga (Alessandria, Italy). Çeku graduated from the Zagreb Academy of Music in the class of Darko Petrinjak and continued studies in Baltimore, USA at the Peabody Conservatory in the class of Manuel Barrueco. Petrit Çeku teaches chamber music for guitar at the University of Music and Performing Arts in Graz, Austria. Çeku's recordings have been released by Naxos, BuntArt and Eudora Records. His album The Cello Suites was nominated for ICMA Αwards. The recording sessions for this album, which includes Bach's complete cello suites, were the subject of award-winning documentary film Sarabande by Kaltrina Krasniqi. Petrit Çeku is a D'Addario artist and plays on a Ross Gutmeier guitar. 
Clémence de Forceville
Violin
Clémence de Forceville
Violin
Violinist Clémence de Forceville has a polyvalent career as a chamber musician, soloist, and concertmaster. She has performed throughout the world and has collaborated as a soloist with the Baden-Baden Philharmonic Orchestra, the Catalonia Chamber Orchestra, the Philharmonie Südwestfalen, the Orchestre de Chambre Nouvelle Europe, and the Paris Chamber Orchestra. A versatile musician, she is passionately involved in the chamber music repertoire, notably alongside the Hieronymus String Quartet, of which she was first violin for three years, and then within the Sōra Trio, of which she was a member until 2021. From this collaboration, an album of Beethoven's six great trios was released by Naïve in November 2020, which has already been distinguished by some prestigious awards: Choc de Classica of the year and elected "Album of the year" by the Times. Clémence studied at the Conservatoire National Supérieur de Musique et de Danse de Paris in the class of Olivier Charlier and then in Berlin with Antje Weithaas and Mihaela Martin. In 2021, she was appointed first concertmaster of the Orchestre de Chambre de Paris and assistant to Philippe Graffin's violin class at the Conservatoire Supérieur National de Musique et de Danse de Paris. Clémence plays a Lorenzo Storioni violin dating from 1777, generously lent by the Boubo-Music Foundation.
Danae Dörken
Piano
Called "the discovery of the year" by classical music magazine Crescendo and "on her way to the very top" by Concerti magazine, German-Greek pianist Danae Dörken is, at age thirty, among the elite of internationally acclaimed artists of a new generation, electrifying audiences, and peer musicians alike with her stunning technical skills, exceptional charisma, and great profundity of her musical thinking. A uniquely gifted talent at very young age, Danae received the support of Lord Yehudi Menuhin when she was seven, and soon began to cause a stir at major European venues with her "sparkling joy of playing" (Kölner Stadt-Anzeiger). Following her studies with the internationally venerated teacher Karl-Heinz Kämmerling and with Lars Vogt, she is today a regular guest of major orchestras including the Munich Symphony, Royal Northern Sinfonia, Estonian National Symphony Orchestra, Norrlandsoperan Symphony and Düsseldorf Symphony Orchestra. She has performed to great critical acclaim at London's Wigmore Hall, the Vienna Konzerthaus, Mozarteum Salzburg, KKL Lucerne, Κölner Philharmonie, Philharmonie Essen, Gasteig Munich, Konzerthaus Berlin, Bozar Brussels, the Elbphilharmonie Hamburg, Alte Oper Frankfurt, and Beethoven-Haus Bonn. Danae Dörken also performs regularly at major festivals including Kissinger Sommer, Schwetzingen Festival, LuganoMusica, Schleswig-Holstein Musik Festival, PianoEspoo Festival, Piano aux Jacobins (Toulouse), Festspiele Mecklenburg-Vorpommern, Rheingau Musik Festival, Lucerne Piano Festival, and the renowned Spannungen Festival in Heimbach. Danae Dörken's groundbreaking recording of piano concertos by Mozart and Mendelssohn (with Royal Northern Sinfonia) was released in 2016, to raving critical acclaim. Previously, her solo recording of fantasies by Schumann, Schubert und C.P.E. Bach (Ars Produktion) was nominated for an ICMA Award. Her 2012 debut CD, featuring solo works by Leoš Janáček (also on Ars Produktion), received equally enthusiastic reviews. Of Greek descent, Danae and her sister Kiveli Dörken founded the Molyvos International Music Festival (MIMF) in 2015 on the island of Lesbos.
Kiveli Dörken
Piano
Kiveli Dörken's temperament, passion and dedication to music is palpable in every one of her concerts. With her infectious enthusiasm and captivating presence, she values a close contact with her audience, often addressing the listeners first, before sitting down at the piano and pushing the boundaries of sound diversity and artistic expression. Kiveli began her musical path as a seven-year-old student of the renowned piano pedagogue professor Karl-Heinz Kämmerling, who taught her until his death, ten years later. She continued her musical education with professor Lars Vogt, with whom she studies at the Hochschule für Musik, Theater und Medien Hannover until today. She is a member of the TONAListen agency, and has received scholarships and support from various foundations, such as the Deutsche Stiftung Musikleben, the renowned Spannungen Festival, the International Musikakademie in Liechtenstein and the Werner Richard-Dr. Carl Dörken Stiftung (no relation). At the age of eight, she gave her orchestral debut. She has since performed as a soloist with orchestras such as the Hamburger Camerata, the Camerata Bern and the Athens State Orchestra. In the last season Kiveli gave her debut with the Deutsche Kammerphilharmonie Bremen playing César Franck's Variations symphoniques under the direction of conductor Alondra de la Parra. She has performed in most European countries, China and the USA, in some of the most famous halls, the Elbphilarmonie, the Mariinsky Theatre in St. Petersburg, the Gewandhaus Leipzig, the Konzerthaus Berlin and the Alte Oper Frankfurt, to name just a few, and is a regular guest at many prestigious festivals, like the Kissinger Sommer, the Schwetzinger Festspiele, the Spannungen Festival in Heimbach and the Schleswig-Holstein Musik Festival. Highlights of her early career were performances for the Dalai Lama in 2007 and for the German chancellor Angela Merkel in Washington, D.C., in 2009. Kiveli dedicates a considerable amount of her time to playing chamber music. She performs regularly with artists such as Christian Tetzlaff, Sharon Kam, Maximilian Hornung and Tanja Tetzlaff. Together with her sister Danae Dörken, she has been playing as a piano duo since the age of five. In 2015 she founded the Molyvos International Music Festival (MIMF) on the Greek Island of Lesbos, of which she is also the artistic director. The MIMF does not only bring the tradition of classical music to Lesbos, but it has also become a symbol of hope for the entire region. Last season Kiveli released her debut CD with the label Ars Produktion featuring solo and chamber music works by Josef Suk.
Timotheos Gavriilidis-Petrin
Cello
Timotheos Gavriilidis-Petrin
Cello
Greek cellist is forging an unwavering artistic path, aiming to evoke powerfully stirring illusions through his music making. He appears as a chamber musician and soloist throughout North America and Europe, most recently as a soloist with conductor-violinist Leonidas Kavakos and the Athens State Orchestra. Timotheos is a founding member of Trio Zimbalist, a piano trio of Curtis Institute alumni which – through a commitment to artistic excellence – carries on the storied legacy of legendary violinist and Curtis director Efrem Zimbalist. Timotheos made his first major US solo appearance in 2016 with the Kansas City Symphony Orchestra under the direction of Robert Spano. He then gained international recognition as a prizewinner at the prestigious International Paulo Cello Competition in Finland. He has also appeared as a soloist with the Helsinki Philharmonic, the Lahti Symphony Orchestra, the Tapiola Sinfonietta, the Israel Camerata, the NEC Philharmonia Orchestra, the Thessaloniki State Symphony Orchestra, and Symphony in C. He is the winner of the 2015 Astral Artists National Competition (USA). Timotheos made his Carnegie Hall recital debut in 2019, performing cello and chamber music works by renowned contemporary composer Leonid Desyatnikov. In 2017, he was named Artist-in-Residence at "Performance Today", the most-listened-to classical music radio programme in the US. An avid chamber musician, Timotheos has collaborated with important musical figures such as violinists Leonidas Kavakos, Noah Bendix-Balgley, Miriam Fried, Pamela Frank, violists Roberto Díaz and Kim Kashkashian, and pianists Jonathan Biss, Plamena Mangova. He is a frequent participant at the Marlboro Music Festival. Timotheos studied at the Curtis Institute of Music and the New England Conservatory. His teachers include Peter Wiley, Carter Brey, Laurence Lesser, and Dimitris Patras.
Nickos Harizanos
Composer
Nickos Harizanos was born in Athens. He is the General Secretary of the Contemporary Music Research Centre (KSYME) (founded by Iannis Xenakis) and member of the Hellenic Electroacoustic Music Composers Association (HELMCA). His music has been performed in 34 countries and published by Schott (Germany), Musica Ferrum (UK), Rowman & Littlefield (USA), Tetractys (UK), Les Procuctions d' Oz (Canada), TEM (Taukay Edizioni Musicali, Italy) and released by Naxos (UK), Phasma (Greece, Poland), TEM (Italy), Subways Music (Greece).
Vashti Hunter
Cello
Much in demand as both a soloist and chamber musician, Vashti Hunter has been invited to important festivals such as Lockenhaus, Ernen, Heidelberger Frühling, Mecklenburg-Vorpommern, Boswiler Sommer and Shanghai chamber music festivals. She has collaborated with artists Steven Isserlis, Martha Argerich, Pekka Kuusisto, Nicolas Altstaedt and Vilde Frang and performs regularly around the world with her piano trio, Trio Gaspard. The Ensemble was formed in 2010 alongside violinist Jonian Ilias Kadesha and Pianist Nicholas Rimmer and studied with Hatto Beyerle at the European Chamber Music Academy. Vashti is also a member of the Kelemen String Quartet and will record all 6 Bartok quartets for the record label Alpha in 2023. Vashti has won top prizes in international competitions in Vienna, Prague and Weimar. She teaches cello to Master's students at the Hochschule für Musik, Theater und Medien Hannover and chamber music at the Hochschule für Musik und Theater Rostock. Vashti plays on a Rombouts cello built in 1720 in Amsterdam. 
Jonian Ilias Kadesha
Violin
Jonian Ilias Kadesha
Violin
Born in Athens of Albanian and Greek heritage, Jonian Ilias Kadesha possesses boundless imagination of sound and curation, constantly exploring new avenues. His playing is characterised by stylistic accuracy and idiomatic interpretation from early to contemporary works. Kadesha has performed widely as soloist throughout Europe, including with the Chamber Orchestra of Europe conducted by Sir András Schiff, Scottish Chamber Orchestra on tour in Copenhagen, London Mozart Players, Munich Radio, Lübeck Philharmonic, Neue Philharmonie Frankfurt, RTÉ Concert Orchestra, Royal Philharmonic, Bad Reichenhall Philharmonic and Thessaloniki State Orchestra. He has given recitals at the Wigmore Hall, Louvre, Berlin Philharmonie, Salle Molière Lyon, Goldener Saal Augsburg and made his debut at the Konzerthaus Berlin as soloist and artistic director of the Caerus Kammerensemble. Festival appearances include the Festspiele Mecklenburg-Vorpommern, Verbier Festival Academy, Heidelberger Frühling, Kammermusikfest Lockenhaus and Schubertiade. Kadesha is a committed chamber musician and has collaborated with renowned musicians such as Martha Argerich, Steven Isserlis, Patricia Kopatchinskaja, Gábor Takács-Nagy, Ilya Gringolts and Pekka Kuusisto. He is co-founder of the award-winning Trio Gaspard, which regularly appears at festivals and in the music centres of Europe and the USA. In 2021 Kadesha signed to Linn Records. His debut solo album featuring Bach's Violin partita in D minor alongside the premiere commercial recording of Helena Winkelman's Ciaccona and works by Biber, Schnittke, Kurtág and Auerbach was released in June 2022. His numerous awards include prizes at the 2015 Deutscher Musikwettbewerb, 2017 Windsor International String Competition and 2013 Leopold Mozart International Violin Competition and was selected for representation by the Young Classical Artists Trust (YCAT) in 2018.
Byol Kang
Violin
Born in Salzburg as the daughter of South Korean musicians and raised in Germany, Byol Kang debuted as soloist at the age of twelve with the Berlin Symphony Orchestra at the Berlin Philharmonie. The winner of the German Music Competition and laureate of international violin competitions (Henri Marteau, Premio Rodolfo Lipizer, Valsesia Musica and Max Rostal) has since appeared at prestigious concert halls such as the Beethovenhalle Bonn, Gewandhaus Leipzig, Laeiszhalle Hamburg, Bremer Die Glocke, Meistersingerhalle Nürnberg, Konzerthaus Berlin, Konzerthaus Vienna and the Carnegie Hall New York. After obtaining her degree with distinction under Michael Gaiser at Robert Schumann Hochschule Düsseldorf, Byol Kang continued her studies for Konzertexamen from 2010-2013 at the Hochschule für Musik Hanns Eisler Berlin with Antje Weithaas. During this time, she was also her teaching assistant. As a dedicated chamber musician, Byol Kang has performed in various constellations among others at pianist Lars Vogt's festival Spannungen in Heimbach, Heidelberger Frühling, Festspiele Mecklenburg-Vorpommern, Schleswig-Holstein Musik Festival, PODIUM Festival in Esslingen and numerous recitals throughout Germany. The Borletti-Buitoni Trust Fellowship recipient has released two CDs with pianist Boris Kusnezow under the label GENUIN. Since the season 2016/17, Byol Kang is concertmaster of the Deutsches Symphonie-Orchester Berlin.
Susanne Kessler
Artist
Susanne Kessler was born in Wuppertal, Germany, and lives currently between Rome and Berlin. She studied painting at the Universität der Künste in Berlin and at the Royal College of Art in London. She became a winner of the DAAD and the Goslarer Kaiserring scholarships, and the Paul Strecker Prize. More recently she won the "Europe" scholarship of the Berlin Senat for the realisation of "Mappa Mundi I and II". She has held solo exhibitions in the Von-der-Heydt Museum Wuppertal, Gustav Lübcke Museum Hamm, Landesmuseum Mainz, Mönchehaus Museum Goslar, Museum Schloß Moyland / Van der Grinten Collection, Museo Macro and GAM in Rome as well as exhibitions in several "Kunstvereine" (art associations) such as Lingen, Speyer, Lippstadt, Würzburg and Wiesbaden. She participated in group shows worldwide. The American University Museum at the Katzen Arts Centre in Washington, D.C., published her book Framing Space that looked at 30 years of her installation art. In 2018 the Museum Kunst der Westküste (MkdW) sponsored her show Odissea, which used indoor and outdoor installations on the theme of getting lost at sea in both ancient and modern times. She currently works on the subject of "oceans."  The US Department of State and all the museums mentioned carry works by Kessler in their collections. This year, 2022, Susanne Kessler, has received the "Von der Heydt- Cultural Prize" of the city of Wuppertal.
Benedict Klöckner
Cello
Benedict Klöckner, born in 1989, is one of the outstanding artists of his generation. He has won numerous competitions and awards, most recently the OPUS Klassik 2021. He performs worldwide as a soloist with renowned orchestras such as the Royal Philharmonic Orchestra London, the NDR Radiophilharmonie, the Deutsche Staatsphilharmonie, the Kremerata Baltica, the Camerata Oslo and the Munich Chamber Orchestra and works with renowned conductors such as Daniel Barenboim, Christoph Eschenbach, Michael Sanderling, Heinrich Schiff, and Sir Simon Rattle.  A keen chamber musician, Benedict is performing with artists such as Sir András Schiff, Anne-Sophie Mutter, Gidon Kremer, Antoine Tamestit, Emmanuel Ax, Fazil Say, Lisa Batiashvili, Yuri Bashmet, Benjamin Grosvenor, Lars Vogt and Christian Tetzlaff. In October 2021 Brilliant Classics released his recording of the Bach cello suites. Since 2014 Benedict is the artistic director and founder of the International Music Festival Koblenz. Benedict Klöckner studied with Martin Ostertag, and as a young soloist of the Kronberg Academy Master with Frans Helmerson and Gary Hoffman. He plays an Italian cello by Francesco Rugeri (Cremona, 1690), formerly played by Maurice Gendron, and a bow by Etienne Pajeot (Mirecourt, 1820).
Danae Kontora
Soprano
Danae Kontora is a coloratura soprano from Greece. She studied at the Hochschule für Musik und Theater in Munich and at the Bayerische Theaterakademie August Everding. She sang the part of the Queen of the Νight at Semperoper Dresden, Komische Oper Berlin, Oper Frankfurt, Oper Stuttgart, Aalto Musiktheater Essen, Oper Leipzig and on tour in Beijing, Macao, and Taiwan. Other parts include Philippe (The Devils of Loudun) at the Bavarian State Opera, Frasquita (Carmen) at the Greek National Opera, Zerbinetta (Ariadne auf Naxos) at the Finnish National Opera, Fritzi (Die Weiden) at the Vienna State Opera, Oscar at Israeli Opera, Blonde (The Abduction from the Seraglio) at Oper Leipzig, Tigrane (Radamisto) at Oper Frankfurt, Olympia (The Tales of Hoffmann) at Theater Erfurt. At the Edinburgh International Festival, she sang the Woodbird (Siegfried) and Woglinde (Götterdämmerung) with the Royal Scottish National Orchestra under Andrew Davis. Danae Kontora also gave her BBC Proms debut at Royal Albert Hall in London with the Deutsche Kammerphilharmonie Bremen under Constantinos Carydis.
Adrien La Marca
Viola
Adrien La Marca's playing is characterised by a depth of expression, technical mastery and a sound with rich, deep, burnished quality. His charismatic stage presence makes La Marca one of today's most compelling musicians. As a soloist, La Marca has performed with renowned Orchestras such as Orchestre National de France, Orchestre Philharmonique de Radio France, Leipzig Radio Symphony Orchestra (MDR), Polish National Radio Symphony Orchestra, Hong-Kong Sinfonietta, Orchestre Philharmonique Royal de Liège (Artist-in-Residence for 2018/19 season), Insula Orchestra, Les Siècles, Orchestre National du Capitole de Toulouse and Orchestre National de Metz. Named "New Soloist of the Year 2014" by French Victoires de la Musique, La Marca has since then performed in most prestigious venues all over the world. His recordings English Delight (2016, La Dolce Volta) and Heroes have been highly praised by the press and received many awards. His most recent album Chanson bohème together with pianist Danae Dörken has already received international acclaim for its "sheer beauty" and "sensitivity of a higher kind". Born in Aix-en-Provence, France in 1989 to a family of musicians, Adrien La Marca began playing piano and viola at the age of four. He studied in Paris with Jean Sulem, in Leipzig with Tatjana Masurenko and further in Berlin with Tabea Zimmermann. Later, Adrien worked with inspiring musicians including Seiji Ozawa, Valery Gergiev, Gidon Kremer, Sir Andras Schiff and Menahem Pressler. La Marca has additionally won numerous prizes in international competitions including William Primrose, Lionel Tertis and Johannes Brahms Competition. La Marca plays an outstanding viola by Nicola Bergonzi (Cremona, 1780), on generous loan from the Boubo-Music Foundation.
Dionysis (Dennis) Makris
Actor
Dionysis (Dennis) Makris
Actor
Dionysis (Dennis) Makris was born in Athens in June 1984 and graduated from the Drama School of the National Theatre in 2010. He is a member of the theatre group "Little Things Orchestra" where through Hamlet of William Shakespeare, he was nominated for the "Dimitris Horn" Award in 2015. In the theatre, he has also collaborated with Jan Fabre doing a 2-year world tour, with Μihail Marmarinos, Thomas Moschopoulos, Nikos Karathanos, Lydia Koniordou, Dimitris Katalifos, Eleni Skoti, Giannis Skourletis, Odysseas Papaspiliopoulos among others. He has worked in major theatrical organisations, such as the National Theatre, Athens Epidaurus Festival, Onassis Foundation, and Stavros Niarchos Foundation. In cinema he has collaborated with Yannis Smaragdis, Christophoros Papakaliatis and others. He starred in the television series Ant1 "Tamam", and additionally he offers acting classes to those who are interested in going to drama school. He has lent his voice to many animation movies, series, and commercials.
Sebastian Manz
Clarinet
Sebastian Manz, international soloist, chamber musician and solo clarinetist with the SWR Symphony Orchestra, had his big breakthrough with his sensational success at the ARD International Music Competition in Munich in September 2008. He wins not only first prize in the Clarinet category, which had not been awarded for forty years, but also the coveted Audience Prize and other special prizes. With his partner Martin Klett at the piano, he had also won the German Music Competition just a few months before. Since then, Manz was awarded thrice with the ECHO Klassik Award for his outstanding album releases. His discography includes numerous awards underscoring Manz's intuition for details and overarching concepts. The album A Bernstein Story, released in 2019 (Berlin Classics) as a collaboration with Sebastian Studnitzky, presents arrangements as well as original compositions of both musicians and is placed in between classical and jazz music. Manz's new album with clarinet concertos by Carl Nielsen and Magnus Lindberg was released in September 2020 on Berlin Classics. For this recording, Magnus Lindberg conducts his clarinet concerto himself. Being the grandson of the Russian violinist Boris Goldstein and the son of two pianists, born in Hanover in 1986, Manz's musical roots are in his German-Russian family background. He begins singing in a boys' choir at the age of six. He first learns the piano, which he plays very well, but soon concentrates on the clarinet. Among his most important teachers and supporters are the acclaimed clarinetists Sabine Meyer and Reiner Wehle.
Costas Mantzoros
Composer
Costas Mantzoros
Composer
Costas Mantzoros was born in 1960 in Athens. He was taught theory of music by Giannis Ioannidis and Haris Xanthoudakis, piano by Michel Bichsel and attended in the Department of Electroacoustic Music in the Athenaeum Conservatory. He collaborates with the Contemporary Music Research Centre (KSYME) since 1986 and mainly composes electroacoustic music as well as music for small ensembles or solo instruments accompanied by electronic music. His works have been performed in concerts in Greece and abroad.
Sindy Mohamed
Viola
The French-Egyptian violist Sindy Mohamed is one of the most promising young musicians of her generation. As a soloist and chamber musician, Sindy Mohamed is a regular guest at major festivals such as the Moritzburg Festival, the Schubertiade Hohenems, the Kronberg Festival, the Festival d'Aix-en-Provence, and the Folle Journée de Nantes. Her chamber music partners include artists such as Renaud Capuçon, Isabelle Faust, Lawrence Power, Tabea Zimmermann, Jan Vogler, Maximilian Hornung, Kian Soltani, Adrien La Marca, Alexander Sitkovetsky, and Marc Bouchkov. In recent seasons, Sindy Mohamed has performed regularly with harpist Anaïs Gaudemard, flutist Joséphine Olech and violinist Michael Barenboim. Highlights of the 2021/22 season include her debuts with the Heidelberger Sinfoniker under the baton of Johannes Klumpp and the Cairo Symphony Orchestra under the baton of Ahmed El Saedi. Sindy Mohamed will also make her debut at the Mecklenburg-Vorpommern Festival and perform a solo recital at the International Music Festival Heidelberger Frühling. A prizewinner of the 2017 Anton Rubinstein International Competition and a scholarship recipient of the Ottilie-Selbach-Redslob-Foundation, she performed as a soloist in England with the Royal Northern Sinfonia under Lars Vogt as part of the New Year New Artists Festival. Rolando Villazón invited her to appear in the ARTE broadcast "Stars of Tomorrow".
Grigoria Papadopoulou
Flute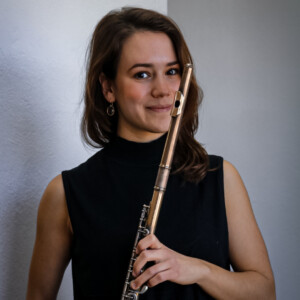 Grigoria Papadopoulou
Flute
She was born in Thessaloniki in 1998. At the age of eight she took up flute and violin lessons at the Conservatory of the Municipality of Polygyros. In 2019 she completed her studies in flute at the New Conservatory of Thessaloniki and acquired her diploma with distinction: Grade A and first award (L. Kokoria's and N. Dimopoulos' class). She has attended seminars with D. Bouriakov, N. Dimopoulos, V. Belomazov. In November 2021 she participated in the National Music Competition Tasos Pappas and was awarded first prize in her category as well as the Special Prize Tasos Pappas for her excellent music performance. In 2021 she completed her studies in violin with professor D. Chandrakis at the University of Macedonia, Department of Music Science and Art along with her studies in violin at the New Conservatory of Thessaloniki and acquired her diploma with distinction, grade 10 and first prize (Ι. Selalmazidis' class). During the Erasmus programme she studied for a semester with E. Kovacic at the University of MDW Music and Performing Arts Vienna. She has also attended seminars With G. Demertzis, D. Patras, M. Michelic and E. Orio. She is a member of the Greek Youth Symphony Orchestra and has also been a member of the Greek-Turkish Youth Orchestra and Thessaloniki Concert Hall Youth Symphony Orchestra MOYSA.
Rosanne Philippens
Violin
Rosanne Philippens is an extraordinary communicator, with an innate musicality and an infectiously joyful yet sincere approach to music-making. She is in high demand across the Netherlands both as soloist and chamber musician. She is also a keen play/director and recently made her debut with the Orchestre National de Lyon leading the Οrchestra in a hugely successful performance. Recent highlights include performances with the Rotterdam Philharmonic, Netherlands Radio Philharmonic, Residentie Orkest, Barcelona Symphony, Ulster Orchestra, Vancouver Symphony, Winnipeg Symphony and with orchestras across Germany, Finland, and Switzerland, with conductors including Yannick Nézet-Séguin, Lawrence Foster, Otto Tausk, Jan Willem de Vriend, Antony Hermus and Nicholas Collon. Philippens plays regularly with artists such as István Vardai, Vilde Frang, Julien Quentin, Víkingur Ólafsson, Amihai Grosz, Camille Thomas and Zoltán Fejérvári. She runs her own concert series "The Amsterdam Salon Pop-Up", presenting high-quality concerts in carefully sought-out and unusual locations. Philippens records exclusively for Channel Classics and all her recordings have received glowing praise. The Strad has described her latest CD Insight as being "both softly spoken and intensely powerful". Earlier albums include Dedications, featuring works by Kreisler, Fauré and Ysaÿe, and a recording of Prokofiev's Concerto no 2, described by BBC Magazine as "a triumph". Philippens was taught from an early age by Anneke Schilt at the Amstelveen Music School. She continued her studies at the Royal Conservatory of The Hague and the Hanns Eisler Academy in Berlin with Coosje Wijzenbeek, Vera Beths, Anner Bylsma and Ulf Wallin, receiving the highest distinction from both institutes. Philippens won first prize at the Dutch National Violin Competition in 2009 and the Freiburg International Violin Competition in 2014. Philippens plays on the 1727 "Barrere" Stradivarius, thanks to the generous support of the Elise Mathilde Foundation.
Odysseas Tsakalidis
Violin
Odysseas Tsakalidis
Violin
Odysseas Tsakalidis was born in Thessaloniki in 2009. Since the age of three his violin teacher is Lefter Zhulla. He also attends the New Conservatory of Thessaloniki, class of Marina Shelkova. He has participated in violin masterclasses with Georgios Demertzis, Haiou Meng and Skerdjano Keraj. He has won several first prizes in competitions in Greece and abroad, such as the 7th National Music Competition Maria Cherogiorgou–Sigara, the Solon Michaelides Panhellenic Competition in Cyprus, the 4th National Competition Orpheus Soloists 2021, the Muse 2021 International Music Competition, the Nouvelles Étoiles International Online Music Competition 2021. In November 2021 he was awarded first prize at the 3rd National Music Competition Tasos Pappas, as well as the highest distinction, the   Special Prize Tasos Pappas for his exceptional performance. Odysseas regularly performs in solo recitals and concerts in Greece and abroad. In December 2019 he performed as a soloist with the Thessaloniki City Symphony Orchestra and conductor Haris Iliadis at the Thessaloniki Concert Hall. In July 2021 he was invited to perform at the "Young Artists Recital" at the Thessaloniki Concert Hall. In August 2021 he performed at the Beethoven-Haus in Bonn and at the Concert Hall of the Conservatoire de Vincennes in Paris.
Antje Weithaas
Violin
Brimful of energy, Antje Weithaas' brings her compelling musical intelligence and technical mastery to every detail of the music. As a soloist, she has worked with most of Germany's leading orchestras and numerous major international orchestras such as the Los Angeles Philharmonic, San Francisco Symphony, Philharmonia Orchestra, and the BBC Symphony. She has collaborated with the illustrious conductors Vladimir Ashkenazy, Sir Neville Marriner, Marc Albrecht, Yakov Kreizberg, Sakari Oramo and Carlos Kalmar.  There were rave reviews for Antje Weithaas' project for CAvi, the complete recordings of Johann Sebastian Bach's solo sonatas and partitas and Eugène Ysaÿe's solo sonatas. The cpo recording of the violin concerto by Robert Schumann and the double concerto by Johannes Brahms with the NDR Radiophilharmonie, cellist Maximilian Hornung and conductor Andrew Manze, received the 2021 BBC Music Magazine's "Concerto" Award. Antje Weithaas began playing the violin at the age of four and later studied at the Hochschule für Musik Hanns Eisler Berlin with professor Werner Scholz. She is winner of several international competitions. Together with Oliver Wille, she has taken over the artistic leadership of the renowned Joseph Joachim Competition. Antje Weithaas is professor of violin at the Hochschule für Musik Hanns Eisler and plays on a 2001 Peter Greiner violin.