Crossroads
16-19 August 2016
In many places around the world walls are being built, however in the traditional village of Molyvos, in the island of Lesbos that faced many difficulties in 2016 bridges were indeed created. Between the 16th-19th of August 2016 the 2nd Molyvos International Music Festival took place under the title "Crossroads". Highly acclaimed artists from all around the world took part, thrilling the audience and sending through their musical partnership a symbolic message of peaceful collaboration and harmonious coexistence of humans.
The audience that filled the castle and visitors of Molyvos in different spots of the village had the opportunity to hear live famous performers of the world classical scene, including pianist Lars Fogt, and become part of a unique experience.
The german newspaper Tagesspiegel in its sunday edition, 21.8.16, wrote about the festival:
The Magic of Molyvos. A vision for Europe: … The full of music days at Molyvos allow a vision for Europe to be revealed: young, dynamic, playful but at the same time serious, aware of tradition."
Programme
16.08
South-Fire
Molyvos Castle 21:00
TOMASO ALBINONI (1671-1751)
Concerto for Two Oboes in C major, Op. 9, No. 9
Philippe Tondre, oboe
Céline Moinet, oboe
Alissa Μargulis, Danae Papamatthaiou-Matschke, violin
Timothy Ridout, viola
Benedict Klöckner, violoncello
Danae Dörken, piano
WOLFGANG AMADEUS MOZART (1756-1791)
Flute Quartet in D major, KV 285
Daniela Koch, flute
Sarah Christian, violin
Timothy Ridout, viola
Maximilian Hornung, violoncello
MIECZYSLAW WEINBERG (1919-1996)
Rhapsody on Moldavian themes, Op. 47 No. 3
Linus Roth, violin
Kiveli Dörken, piano
NIKOS SKALKOTTAS (1904-1949)
5 Greek Dances
Danae Papamatthaiou-Matschke, violin
Alissa Margulis, violin
Lech Antonio Uszynski, viola
Benedict Klöckner, violoncello
Jaebok Cho, double bass
INTERMISSION
DVOŘÁK (1841-1904)
Piano Trio in E minor, Op. 90 "Dumky"
Anna Reszniak, violin
Maximilian Hornung, violoncello
Lars Vogt, piano
17.08
East-Earth
Conference Centre 12:00
GILAD HOCHMAN (b. 1982)
Nedudim (Wanderings)
Arranged for Mandolin and String quintet
First Presentation
Alon Sariel, mandolin
Linus Roth, violin
Danae Papamatthaiou-Matschke, violin
Lech Antonio Uszynski, viola
Benedict Klöckner, violoncello
Jaebok Cho, double bass
KINAN AZMEH (b. 1976)
Excerpts from Scattered sketchbook
Sebastian Manz, clarinet
Sarah Christian, violin
MALCOLM ARNOLD (1921-2006)
Three Shanties for Wind Quintet, Op. 4
Daniela Koch, flute
Philippe Tondre, oboe
Sebastian Manz, clarinet
Philipp Zeller, bassoon
Bertrand Chatenet, horn
MIKHAIL GLINKA (1804-1857)
Septet in E flat Μajor
Philippe Tondre, oboe
Philipp Zeller, bassoon
Bertrand Chatenet, horn
Anna Reszniak, violin
Linus Roth, violin
Maximilian Hornung, violoncello
Jaebok Cho, double bass
17.08
West-Water
Molyvos Castle 21:00
BÉLA BARTÓK (1881-1945)
Romanian Folk Dances, Sz. 56, BB 68
(Originally arranged for piano and violin)
Alon Sariel, mandolin
Kiveli Dörken, piano
SAMUEL BARBER (1910-1981)
Adagio for Strings, Op. 11a
Sarah Christian, violin
Danae Papamatthaiou-Matschke, violin
Timothy Ridout, viola
Maximilian Hornung, violoncello
WOLFGANG AMADEUS MOZART (1756-1791)
Quintet for Piano and Winds in E flat Major, KV 452
Céline Moinet, oboe
Sebastian Manz, clarinet
Philipp Zeller, bassoon
Bertrand Chatenet, horn
Kiveli Dörken, piano
INTERMISSION
MUSICAL SURPRISES
Classic goes clubbing
18.08
Young People's Concert
Molyvos Castle 19:00
An introduction to the magical world of music, specifically designed for young people, including works by Dvořák, Stravinsky & Daly.
Joining the MIMF 2016 team of musicians are Eleftherios & Konstantinos Kakampouras Alexopoulos in the piano. These two charismatic children where chosen from the educational programme "Music Key" which took place in Lesbos island in the 2015-16 School year.
The concert is co- presented by Danae & Kiveli Dörken and actresses Georgina Liossi & Lila Baklesi.
18.08
North-Air
Molyvos Castle 21:00
ROSS DALY (b. 1952)
Neveser 14
Alon Sariel, mandolin
Daniela Koch, flute
Philipp Zeller, bassoon
Danae Papamatthaiou-Matschke, violin
ANTONÍN DVOŘÁK (1841-1904)
Piano Quintet in A Major, Op. 81
Linus Roth, violin
Anna Reszniak, violin
Lech Antonio Uszynski, viola
Benedict Klöckner, violoncello
Lars Vogt, piano
INTERMISSION
IGOR STRAVINSKY (1882-1971)
Le Sacre du Printemps
Danae Dörken, Kiveli Dörken, piano 4 hands
19.08
Crossroads
Molyvos Castle 21:00
FRANZ DANZI (1763-1826)
Wind Quintet in G Minor, Op. 56, No. 2
Daniela Koch, flute
Céline Moinet, oboe
Sebastian Manz, clarinet
Philipp Zeller, bassoon
Bertrand Chatenet, horn
JOHANNES BRAHMS (1833-1897)
Piano Quartet in G Minor, Op. 25
Alissa Margulis, violin
Lech Antonio Uszynski, viola
Maximilian Hornung, violoncello
Danae Dörken, piano
INTERMISSION
FRANZ LACHNER (1803-1890)
Nonet in F major
Daniela Koch, flute
Sebastian Manz, clarinet
Céline Moinet, oboe
Philipp Zeller, bassoon
Bertrand Chatenet, horn
Sarah Christian, violin
Timothy Ridout, viola
Benedict Klöckner, violoncello
Jaebok Cho, double bass
ATHENA ADAMOPOULOS (b. 1986)
Passage
First Presentation – composed for MIMF 2016
MIMF 2016 Musicians
Alon Sariel
Mandolin
As a mandolinist and lutenist, as well as a conductor, Alon Sariel is at home in the fields of both early and new music, having premiered dozens of works dedicated to him. He appeared at festivals such as the Salzburger Biennale for New Music and the Early Music Festival in Utrecht, and has performed in halls such as the Berliner Philharmonie and La Scala in Milan.
Musical roads have taken Alon Sariel to many different genres from folk to avantgarde, leading him to collaborations with a bright spectrum of first-class artists such as soprano Dame Emma Kirkby, trumpeter and intuitive-music artist Markus Stockhausen, violinist Jean-Christophe Spinosi, accordeonist and banjo player Stian Carstensen and clarinetist David Krakauer.
A winner of numerous international competitions and awards, Alon Sariel has also been actively engaged in several socio-political projects including Live Music Now (Yehudi Menuhin), Rhapsody in School (Lars Vogt) and the West Eastern Divan (Daniel Barenboim). As a soloist and member of different ensembles, Alon Sariel toured throughout Europe, the USA and Mexico, the Middle- and Far-East, and has given master classes at universities throughout the world. His playing was broadcasted via radio stations worldwide, including Arte, BBC4, Bayerischer Rundfunk, WDR3, P2 Klassiskt, Kol HaMusika, WQXR and WNYC among others.
Alon Sariel is musical director of the Baroque orchestra Concerto-Foscari and founding member at PRISMA with whom he was awarded the first prize at the International Biber Competition in Austria 2015. In December 2015 Alon Sariel released "Paisiello in Vienna" for Brilliant Classics, a tribute album to Giovanni Paisiello marking 200th year for his passing, using original instruments from the early 1800's. 2016 will see a recording project for Berlin Classics in cooperation with the Deutsches Kammerorchester Berlin.
Bertrand Chatenet
Horn
French hornist Bertrand Chatenet was born in 1990. He started learning the horn with Patrice Petitdidier in the Conservatory of Gennevilliers and then with Jérome Rouillard (Horn), Paul Meyer and Eric Lesage (wind quintet). In 2009 he studied next to Erich Penzel, Christian Lampert and Christoph Eß at the Musikhochschule Stuttgart and since 2013 he studies with Christian-Friedrich Dallmann and Sebastian Posch at the Universität der Künste in Berlin.
Since 2010 he performs primarily as a soloist with major orchestras such as the Stuttgart Radio Symphony Orchestra(SWR), the Stuttgart Philharmonic, the Staatskapele Dresden, the orchestra of the State Opera of Bavaria, the Deutschen Symphonie Orchester Berlinetc. Bertrand Chatenet, after attending the Academy of the Staatskapele Berlin, is since June 2015 horn soloist in the orchestra.
Jaebok Cho
Double Bass
Born in Daegu, South-Korea, Jaebok began his studies on the double bass at the age of 16. He studied in Seoul National University and later went to Berlin. There, he studied at the Hanns Eisler School of Music with Stephan Petzold. Jaebok Cho ended his studies at the University of the Arts in Berlin with Michael Wolf. After graduation, he continued his postgraduate studies at the Hamburg University of Music and Theater with Michael Rieber and the Folkwang University in Essen under Niek de Groot.
While studying, Jaebok was a substitute bassist with the Konzerthaus Orchestra and Rundfunk-Symphonie- Orchestra Berlin as well as the NDR Symphony Orchestra Hamburg. During his training he was awarded the Second Prize at the 8th International Double Bass Competition in Brno (Czech Republic) and he won a Second Prize in the Competition of the Elise-Meyer- Stiftung Hamburg. Jaebok was appointed Principal Double Bass of the Duisburg Philhamonic Orchestra in 2010, and since 2014 he was appointed Principal Bass of the NDR Radiophilharmonie in Hanover. He also freelances with other orchestras.
Sarah Christian
Violin
Sarah Christian, born in Augsburg, completed her studies with Prof. Antje Weithaas at the Hochschule für Musik "Hanns Eisler" Berlin, where she, since 2013 has held a teaching position. Christians advanced studies began with Prof. Igor Ozim at the Universität Mozarteum in Salzburg from which she graduated at the age of 20 with the highest honours. She has also gained invaluable musical insight by taking part in master classes with Prof. Thomas Brandis, Donald Weilerstein, Prof. Rainer Schmidt, Maxim Vengerov and Miriam Fried.
Internationally celebrated, Sarah Christian has won numerous competitions. In Austria, Christian was awarded first prize at the Brahms Competition, and the Mozarteum Foundation Salzburg awarded her the prize for the youngest finalist in the 10th annual Mozart Competition. Her success continued in Salzburg, where in 2008 she was awarded the "Best string player of the year" as well as the "Yehudi Menuhin Medal" of the Universität Mozarteum. In early 2012 she won the 1st prize and the Friends of Young Musicians prize at the "Mendelssohn-Bartholdy" Competition in Berlin.
Sarah Christian has always placed special emphasis on her chamber music training and development. Her studies in Salzburg have led to an undeniable influence from the Hagen Quartet. 2015 brought about the debut season of Carte Blanche in Augsburg, a self-initiated chamber music series of which Christian is co-artistic director together with cellist Maximilian Hornung.
Sarah Christian pursues a busy concert schedule, which has already led her to many European countries as well as, China, Japan, South America and the United States. As a soloist she has played with many ensembles including the the Bayerische Kammerphilharmonie, the Camerata Salzburg e.t.c.
In 2013, Sarah Christian began as the first concertmaster of the Deutsche Kammerphilharmonie Bremen. In addition to continuing projects with world-famous conductors and soloists, she especially enjoys the opportunity to lead the orchestra from the first desk.
Danae Dörken
Piano
Called "the discovery of the year" by classical music magazine Crescendo and "on her way to the very top" by Concerti magazine, German-Greek pianist Danae Dörken is, at age thirty, among the elite of internationally acclaimed artists of a new generation, electrifying audiences, and peer musicians alike with her stunning technical skills, exceptional charisma, and great profundity of her musical thinking. A uniquely gifted talent at very young age, Danae received the support of Lord Yehudi Menuhin when she was seven, and soon began to cause a stir at major European venues with her "sparkling joy of playing" (Kölner Stadt-Anzeiger). Following her studies with the internationally venerated teacher Karl-Heinz Kämmerling and with Lars Vogt, she is today a regular guest of major orchestras including the Munich Symphony, Royal Northern Sinfonia, Estonian National Symphony Orchestra, Norrlandsoperan Symphony and Düsseldorf Symphony Orchestra. She has performed to great critical acclaim at London's Wigmore Hall, the Vienna Konzerthaus, Mozarteum Salzburg, KKL Lucerne, Κölner Philharmonie, Philharmonie Essen, Gasteig Munich, Konzerthaus Berlin, Bozar Brussels, the Elbphilharmonie Hamburg, Alte Oper Frankfurt, and Beethoven-Haus Bonn. Danae Dörken also performs regularly at major festivals including Kissinger Sommer, Schwetzingen Festival, LuganoMusica, Schleswig-Holstein Musik Festival, PianoEspoo Festival, Piano aux Jacobins (Toulouse), Festspiele Mecklenburg-Vorpommern, Rheingau Musik Festival, Lucerne Piano Festival, and the renowned Spannungen Festival in Heimbach. Danae Dörken's groundbreaking recording of piano concertos by Mozart and Mendelssohn (with Royal Northern Sinfonia) was released in 2016, to raving critical acclaim. Previously, her solo recording of fantasies by Schumann, Schubert und C.P.E. Bach (Ars Produktion) was nominated for an ICMA Award. Her 2012 debut CD, featuring solo works by Leoš Janáček (also on Ars Produktion), received equally enthusiastic reviews. Of Greek descent, Danae and her sister Kiveli Dörken founded the Molyvos International Music Festival (MIMF) in 2015 on the island of Lesbos.
Kiveli Dörken
Piano
Kiveli Dörken's temperament, passion and dedication to music is palpable in every one of her concerts. With her infectious enthusiasm and captivating presence, she values a close contact with her audience, often addressing the listeners first, before sitting down at the piano and pushing the boundaries of sound diversity and artistic expression. Kiveli began her musical path as a seven-year-old student of the renowned piano pedagogue professor Karl-Heinz Kämmerling, who taught her until his death, ten years later. She continued her musical education with professor Lars Vogt, with whom she studies at the Hochschule für Musik, Theater und Medien Hannover until today. She is a member of the TONAListen agency, and has received scholarships and support from various foundations, such as the Deutsche Stiftung Musikleben, the renowned Spannungen Festival, the International Musikakademie in Liechtenstein and the Werner Richard-Dr. Carl Dörken Stiftung (no relation). At the age of eight, she gave her orchestral debut. She has since performed as a soloist with orchestras such as the Hamburger Camerata, the Camerata Bern and the Athens State Orchestra. In the last season Kiveli gave her debut with the Deutsche Kammerphilharmonie Bremen playing César Franck's Variations symphoniques under the direction of conductor Alondra de la Parra. She has performed in most European countries, China and the USA, in some of the most famous halls, the Elbphilarmonie, the Mariinsky Theatre in St. Petersburg, the Gewandhaus Leipzig, the Konzerthaus Berlin and the Alte Oper Frankfurt, to name just a few, and is a regular guest at many prestigious festivals, like the Kissinger Sommer, the Schwetzinger Festspiele, the Spannungen Festival in Heimbach and the Schleswig-Holstein Musik Festival. Highlights of her early career were performances for the Dalai Lama in 2007 and for the German chancellor Angela Merkel in Washington, D.C., in 2009. Kiveli dedicates a considerable amount of her time to playing chamber music. She performs regularly with artists such as Christian Tetzlaff, Sharon Kam, Maximilian Hornung and Tanja Tetzlaff. Together with her sister Danae Dörken, she has been playing as a piano duo since the age of five. In 2015 she founded the Molyvos International Music Festival (MIMF) on the Greek Island of Lesbos, of which she is also the artistic director. The MIMF does not only bring the tradition of classical music to Lesbos, but it has also become a symbol of hope for the entire region. Last season Kiveli released her debut CD with the label Ars Produktion featuring solo and chamber music works by Josef Suk.
Maximilian Hornung
Cello
With his striking musicality, instinctive stylistic certainty and musical maturity, the young cellist Maximilian Hornung, is taking the international music scene by storm. He received an ECHO Klassik prize as best newcomer of the year for his first Sony CD in 2011, followed by an ECHO Klassik prize for the best cello concerto recording of the year.
Maximilian Hornung regularly performs as a soloist with such renowned orchestras as the Tonhalle Orchestra Zurich, Bavarian Radio Symphony Orchestra, London Philharmonic Orchestra, Czech Philharmonic, Vienna Symphony and Bamberg Symphony under conductors such as Mariss Jansons, Yannick Nezet-Seguin, Daniel Harding, Semyon Bychkov, Bernhard Haitink, Manfred Honeck and many others. His chamber music partners include Anne-Sophie Mutter, Hélène Grimaud and Lars Vogt. In August 2014, he made his debut at the Salzburg Festival with the Philharmonia Orchestra and Esa-Pekka Salonen and produced a CD of Richard Strauss' most important works for cello, as well as a CD of the cello concertos of Joseph Haydn and Vaja Azarashvili with the Kammerakademie Potsdam under Antonello Manacorda on Sony Classical in the same year.
Maximilian Hornung began taking cello lessons at the age of eight. The teachers with whom he has studied most intensely are Eldar Issakadze, Thomas Grossenbacher and David Geringas. He is supported and sponsored by the Anne-Sophie Mutter Circle of Friends Foundation and Borletti-Buitoni Trust London.
Benedict Klöckner
Cello
Benedict Klöckner, born in 1989, is one of the outstanding artists of his generation. He has won numerous competitions and awards, most recently the OPUS Klassik 2021. He performs worldwide as a soloist with renowned orchestras such as the Royal Philharmonic Orchestra London, the NDR Radiophilharmonie, the Deutsche Staatsphilharmonie, the Kremerata Baltica, the Camerata Oslo and the Munich Chamber Orchestra and works with renowned conductors such as Daniel Barenboim, Christoph Eschenbach, Michael Sanderling, Heinrich Schiff, and Sir Simon Rattle.  A keen chamber musician, Benedict is performing with artists such as Sir András Schiff, Anne-Sophie Mutter, Gidon Kremer, Antoine Tamestit, Emmanuel Ax, Fazil Say, Lisa Batiashvili, Yuri Bashmet, Benjamin Grosvenor, Lars Vogt and Christian Tetzlaff. In October 2021 Brilliant Classics released his recording of the Bach cello suites. Since 2014 Benedict is the artistic director and founder of the International Music Festival Koblenz. Benedict Klöckner studied with Martin Ostertag, and as a young soloist of the Kronberg Academy Master with Frans Helmerson and Gary Hoffman. He plays an Italian cello by Francesco Rugeri (Cremona, 1690), formerly played by Maurice Gendron, and a bow by Etienne Pajeot (Mirecourt, 1820).
Daniela Koch
Flute
Born in 1989, the young Austrian was only sixteen when she began studying flute at the Mozarteum University in Salzburg under the tuition of Michael Martin Kofler, and soon made a name for herself in the music world, thanks in no small part, to her success in numerous competitions. Daniela Koch has performed at various festivals, such as the Rheingau Musik Festival, the Davos Festival and the Festspiele Mecklenburg-Vorpommern. She has been chosen by Vienna's Konzerthaus and Musikverein as a Rising Star of the European Concert Hall Organisation (ECHO). In this capacity, she has given recitals in such concert venues as Bozar Bruxelles, La Cité de la Musique Paris, Concertgebouw Amsterdam and the Vienna Konzerthaus. Further concert engagements have taken her to Canada, the USA and Japan. As a soloist, she has played with such illustrious orchestras as the Vienna Symphony Orchestra, the European Union Chamber Orchestra and the Deutsches Symphonie Orchester Berlin. Daniela Koch has already released two cds, and a third one is being prepared.
Sebastian Manz
Clarinet
Sebastian Manz, international soloist, chamber musician and solo clarinetist with the SWR Symphony Orchestra, had his big breakthrough with his sensational success at the ARD International Music Competition in Munich in September 2008. He wins not only first prize in the Clarinet category, which had not been awarded for forty years, but also the coveted Audience Prize and other special prizes. With his partner Martin Klett at the piano, he had also won the German Music Competition just a few months before. Since then, Manz was awarded thrice with the ECHO Klassik Award for his outstanding album releases. His discography includes numerous awards underscoring Manz's intuition for details and overarching concepts. The album A Bernstein Story, released in 2019 (Berlin Classics) as a collaboration with Sebastian Studnitzky, presents arrangements as well as original compositions of both musicians and is placed in between classical and jazz music. Manz's new album with clarinet concertos by Carl Nielsen and Magnus Lindberg was released in September 2020 on Berlin Classics. For this recording, Magnus Lindberg conducts his clarinet concerto himself. Being the grandson of the Russian violinist Boris Goldstein and the son of two pianists, born in Hanover in 1986, Manz's musical roots are in his German-Russian family background. He begins singing in a boys' choir at the age of six. He first learns the piano, which he plays very well, but soon concentrates on the clarinet. Among his most important teachers and supporters are the acclaimed clarinetists Sabine Meyer and Reiner Wehle.
Alissa Margulis
Violin
Appreciated for her expressive and very emotional performances, Alissa Margulis regularly plays in important concert halls such as the Berlin Philharmony, the Carnegie Hall, the Kennedy Center, the Tchaikovsky Hall Moscow, Palacio de Bellas Artes in Mexico City, the Palais des Beaux Arts in Brussels, the Cologne Philharmony, the Vienna Musikverein, Sumida Triphony Hall Tokyo, the Sage Gateshead, the Tonhalle Zurich and the St. Petersburg Philharmonic Hall.
Born in Germany into a family of Russian musicians, Alissa Margulis studied in Cologne with Zakhar Bron, in Brussels with Augustin Dumay and in Vienna with Pavel Vernikov. She won numerous prizes at international violin competitions and was awarded with the "Pro Europa" prize of the European Arts Foundation which was presented to her by Daniel Barenboim in Berlin.
She made her first public appearance at the age of seven with the Budapest Soloists and has performed since then with numerous orchestras such as the English Chamber Orchestra, New Japan Philharmonic Orchestra, Orchestre National d'Ile de France, New Russia Orchestra, Orchestra Sinfonica di Milano Giuseppe Verdi, Orchestra della Svizzera italiana, Bilkent Orchestra Ankara, Beethoven Orchestra Bonn, Belgian National Orchestra, the Philharmonic Orchestras of Kiev, Skopje, Ljubljana, Minsk and Novosibirsk, the Vienna Chamber Orchestra, the Royal Northern Sinfonia, the Moscow Soloists, and the Kremerata Baltica, amongst many others.
Alissa Margulis worked together with famous conductors: Ivor Bolton, Jacques Mercier, Arnold Katz, Jacek Kaspszyk, Dmitry Liss, Jaap van Zweden, Enrique Mazzola, Daniel Raiskin, Fabrice Bollon, Stefan Vladar, François-Xavier Roth, Lars Vogt, Howard Griffiths, Stanislav Kochanovsky, Hubert Soudant, Yuri Bashmet, Gidon Kremer, Christian Arming, Augustin Dumay, Mikko Franck and Gerd Albrecht to name just a few of them.
Besides her solo career Alissa Margulis is an enthusiastic chamber music player and collaborates with artists such as Martha Argerich, Yuri Bashmet, David Geringas, Ivry Gitlis, Gidon Kremer, Bruno Giuranna, Mischa Maisky, Gabriela Montero, Jean-Guihen Queyras, Liana Issakadze, Alexandre Tharaud, Stephen Kovacevich, Alexander Lonquich, Polina Leschenko, Paul Badura-Skoda and Lars Vogt.
She further appeared at various Festivals: at the Enescu Festival Bucharest, Jerusalem Chamber Music Festival, the Menuhin Festival Gstaad, in Davos, Tours, Stravanger Festival, at the Mozartwoche Salzburg, "Spannungen"-Festival in Heimbach, "Progetto" Martha Argerich Festival in Lugano, Schleswig-Holstein Festival, Maggio Musicale Fiorentino, Sotshi Winter Arts Festival and Verbier Festival.
Her discography includes more than a dozen CDs at labels such as EMI Classics, Oehms, Novalis, Avanti Classic and CAvi. Notably two of the six EMI Classics releases of the "Martha Argerich and Friends" series received a GRAMMY nomination, several others won the Diapason d'or. She recorded repertoire by Mozart, Shostakovich, Enescu, Beethoven, Messiaen and others as well as the complete music for violin and piano by Franz Liszt. She recorded Piazzolla's seasons and took part in an all Klezmer recording alongside musicians such as Myriam Fuks, Roby Lakatos, Evgeny Kissin, Polina Leschenko and Mischa Maisky. Alissa Margulis will be featured in another live recording of chamber music performed at the Progetto Martha Argerich, a 2016 release by Warner Classics.
Last season she played concerts in Germany, Austria, Belgium, Greece, Russia, Luxembourg, Lebanon, South Africa, Aruba, Malta, the Netherlands, Switzerland, the USA, Italy, France at venues such as the Philharmonie de Paris, the Tchaikovsky Hall Moscow and the Verbier Festival, among many others.
Danae Matschke-Papamatthaiou
Violin
Danae Matschke-Papamatthaiou
Violin
Danae Papamattheou – Matschke belongs to the promising new generation of young violinists.
Born in Athens, she takes her first violin lessons in her hometown, followed by studies at the "Musikgymnasium Schloss Belvedere" in Weimar with Jost Witter, the Mozarteum University Salzburg with Igor Ozim and the University of Music and Theatre in Hamburg with Tanja Becker – Bender, all completed with the highest distinctions.
She has given recitals in Germany, USA, China, Italy, Spain, Switzerland, Austria, Slovenia, Estonia, Finland, Sweden and Cyprus and has worked as a soloist with a variety of symphony orchestras, such as the Athens and Thessaloniki State Orchestras, the Greek Radio Symphony Orchestra, the Orchestra of the Association of Friends of Music "Camerata", the Mendelssohn Chamber Orchestra Leipzig, the Thüringer Philharmonie a.o.
As a soloist and enthusiastic chamber musician, she regularly appears at international music festivals such as the Mecklenburg-Vorpommern Festival, the International Mendelssohn Festival Hamburg, the Pharos International Music Festival, the Samos Young Artists Festival and the Molyvos International Music Festival as well as at the large music centres such as Gewandhaus Leipzig, the Elbphilharmonie and Laeiszhalle Hamburg, the Beijing National Performing Arts Centre and the concert halls of Athens and Thessaloniki.
International master classes with Igor Ozim, Ana Chumachenko, Zakhar Bron, Donald Weilerstein, Vanya Milanova, Boris Garlitsky, Tanja Becker – Bender, Christiane Hutcap and the Szymanowski Quartet gave her special artistic impulses.
Danae Papamattheou – Matschke is the 1st prize-winner in numerous national and international competitions such as the International Violin Competition "Andrea Postacchini", "Henri Marteau", "Jugend musiziert", the International Competition for Young Soloists "Ersi Saratsi" and the "Panhellenic Violin Competition". In addition, she won special prizes for the best interpretation of a virtuoso work at the international "Henri Marteau" violin competition and for the best interpretation of a contemporary work at the International "Szymon Goldberg Award".
Two CD productions present recordings of works by J. S. Bach, L. v. Beethoven, E. Bloch, C. Franck, C. Debussy, M. Ravel and D. Terzakis (IRIDA Classical).
She was repeatedly honoured with grants from international non-profit organizations for her outstanding achievements. She was a scholarship holder of the Association of Music Friends Athens, the "Alexandros S. Onassis Foundation", the "Deutsche Stiftung Musikleben", the "Hermann and Milena Ebel Foundation" and the "Berenberg Bank Foundation ".
She is also particularly interested in chamber music. Since 2018 she is leading violinist of the "Nichiteanu Trio" and regularly performs in Germany and abroad.
Danae Papamattheou-Matschke plays on a violin made by Carlo Ferdinando Landolfi, Milan 1760.
Céline Moinet
Oboe
Praised as "one of the finest oboists in the world" (International Record Review), Céline Moinet has been one of the most exceptional performing artists on her instrument for the past 10 years. She is in demand as a soloist with all the major orchestras in the world, including most recently at the Salzburg Festival with Christoph Eschenbach and Staatskapelle Dresden. She also regularly tours as soloist with Dresden Kapellsolisten and Kammerorchester Basel. She signed as an exclusive artist with Harmonia Mundi, winning unanimous plaudits from critics for her recording of works for solo oboe as well as chamber music with harp.
Céline was born in Lille, France in 1984 and completed her studies with highest honours at the Conservatoire National Supérieur de Musique under the tutelage of David Walter and Maurice Bourgue. She continued her artistic training with the Gustav Mahler Jugendorchester and the orchestra of the National Theater Mannheim. At just 23 years of age, Céline won the prestigious position of solo oboist at the Staatskapelle Dresden performing with conductors such as Christian Thielemann, Zubin Mehta and Claudio Abbado. She is also a regular guest of orchestras such as the Vienna Philharmonic and the London Symphony Orchestra. Celine plays oboe and cor anglais exclusively from Marigaux, Paris.
Anna Reszniak
Violin
Anna Reszniak is a highly sought after violinist today, as soloist, chamber musician and as concert master with renowned orchestras. Born in Olsztyn in Poland, she soon was recognised as child prodigy with concert and television appearances. She studied in Poznan, Zürich, Bern and Paris and amongst her teachers were Jean- Jacques Kantorow and Igor Ozim. Throughout the years Anna Reszniak has received many awards from international violin competitions, including the Wieniawski Competition in Poznan and Shlomo Mintz competition in Sion-Valais. She has performed as a soloist with many European orchestras under such conductors as Alexander Shelley, Claus-Peter Flor and Howard Griffiths. She has performed throughout Switzerland a program that included all twenty-four of the Paganini Caprices in one concert.
As concertmaster she has lead several orchestras in Switzerland, Germany, Spain and in South East Asia, such as the Orquesta Sinfónica de Madrid, the Orquesta Sinfónica de Galicia, the Orquesta del Palau de les Arts Reina Sofia in Valencia, the Deutsche Kammerphilharmonie Bremen and the Malaysian Philharmonic Orchestra in Kuala Lumpur.
Anna Reszniak is also very active as a chamber musician and performed with such renowned musicians as Olli Mustonen, Itamar Golan, Lars Vogt, Florian Donderer, Tanja Tetzlaff and Maximilian Hornung. She is a regular guest at the chamber music festival "Spannungen" in Heimbach.
From the 2014/15 season Anna Reszniak holds the position of Concertmaster of the Nürnberger Symphoniker.
Timothy Ridout
Viola
Since  winning 1st Prize in the Lionel Tertis International Viola Competition  in 2016, Timothy has gone on to perform widely internationally, in 2019  winning the prestigious Thierry Scherz Award at the Sommets Musicaux de  Gstaad awarded by Renaud Capuçon.
Concerto  engagements during 2018/19 include a residency with Baden-Baden  Philharmonie and appearances with the Hamburg Symphony, Tonhalle  Orchester Zurich, Orchestre de Lille, Camerata Salzburg and Philharmonia  Orchestra.
He returns to Wigmore Hall as soloist, and in chamber music collaborations  with Steven Isserlis, Joshua Bell, Jeremy Denk, the Quatuor Arod,  NIcolas Daniel and the Nash Ensemble.  In 2019 he gives recitals at the  Berlin Konzerthaus, Louvre, Sommets Musicaux Gstaad,  Heidelberger-Frühling, Evian and Radio France Montpelier Festivals and returns as Artist in Residence to the Boswiler Sommer Festival.
Further  afield he takes part in the Aspen Festival (USA), makes his debut at  the National Concert Hall in Taipei, Taiwan and gives a series of  concerts in Japan with pianist Benjamin Frith including the Sumida  Triphony Hall in Tokyo.
Born in London, Timothy studied at the Royal Academy of Music (graduating  with the Queen's Commendation for Excellence) and is currently at the  Kronberg Academy with  Nobuko Imai.
Timothy plays on a viola by Peregerino di Zanetto c.1565-75 generously on loan from Beares International Violin Society.
Linus Roth
Violin
Since he won the Echo Klassik Award for his EMI debut album in 2006 Linus Roth has made a name for himself both as one of the most interesting violinists of his generation and as a champion of wrongly forgotten works and composers.
Linus Roth has performed with the Radio Symphony Orchestras of the SWR and Berlin, the Bruckner Orchester Linz, the Orquesta de Cordoba, the Orquesta de Navarra, the Orchestra della Teatro San Carlo Napoli, the Royal Liverpool Philharmonic, the Bern Symphony Orchestra, the Orchestra of the State Opera Stuttgart, the Vienna Chamber Philharmonic, the Cologne Chamber Orchestra, the Wuerttemberg Chamber Orchestra Heilbronn and the Munich Chamber Orchestra. He has shared the stage with the conductors Gerd Albrecht, Herbert Blomstedt, Andrey Boreyko, Dennis Russell Davies, James Gaffigan, Hartmut Haenchen, Manfred Honeck, Mihkel Kütson, Antoni Wit, among others.
As passionate chamber musician, Linus Roth can be heard with Nicolas Altstaedt, Gautier Capuçon, Kim Kashkashian, Albrecht Mayer, Nils Mönkemeyer, Andreas Ottensamer, Itamar Golan and Danjulo Ishizaka. He gives regularly recitals with the Argentinian pianist José Gallardo.
With particular interest Linus Roth is dedicated to the composer Mieczyslaw Weinberg. The recordings of Weinberg's complete works for Violin and Piano for Challenge Classics have brought him both critical and public acclaim. Roth's commitment to Weinberg is further documented in his recordings of Weinberg's Violin Concerto with the Deutsches Symphonie-Orchester Berlin and of Weinberg ́s Concertino with the Württemberg Chamber Orchestra Heilbronn (both CDs were named "Editor ́s Choice" by the Gramophone Magazine). In 2015 Linus Roth founded the International Weinberg Society, an organization whose mission is to bring more attention to the Oeuvre of the Polish-Jewish composer, to help organize concerts, lectures, exhibitions, as well as support publications about his life and recordings of his compositions.
After joining Prof. Nicolas Chumachenco's pre-college division at the Music Academy Freiburg, Linus Roth continued his studies with Prof. Zakhar Bron in Lübeck and with Prof. Ana Chumachenco at the Academies of Zurich and Munich. Salvatore Accardo, Miriam Fried and Josef Rissin all strongly influenced his development as a player as did Anne-Sophie Mutter, whose Foundation awarded him a scholarship for the duration of his studies. In 2012 he was appointed Professor for Violin at the "Leopold-Mozart-Centre" of the University of Augsburg / Germany.
Linus Roth plays the Stradivari "Dancla" 1703, a generous loan by the "L-Bank, Staatsbank of Baden-Württemberg / Germany".
Philippe Tondre
Oboe
Philippe Tondre has been Principal Oboe in the South West Radio Symphony Orchestra Stuttgart since 2008. He also holds the position of Principal Oboe in the Mito Chamber Orchestra and the Saito Kinen Festival Orchestra Matsumoto Japan. He was born in Mulhouse (France) in 1989 and entered the Conservatoire National Supérieur de Musique de Paris at the age of 15, where he studied with David Walter and obtained his Master's Degree with distinction in 2010.
Philippe is prizewinner of all the major international oboe competitions. As Principal Oboe Philippe Tondre has played in the Budapest Festival Orchestra, the Paris Orchestra, the Radio France Symphony Orchestra, the Berlin Radio Symphony Orchestra, the Gustav Mahler Youth Orchestra and the National French Youth Orchestra. Philippe has also appeared as soloist and chamber musician with leading orchestras such as the Chamber Orchestra of Europe, the Bavarian Radio Symphony Orchestra Munich, the South West Radio Symphony Orchestra Stuttgart and others. He has worked with eminent conductors as Seiji Ozawa, Sir Roger Norrington, Sir Colin Davis, Sir Neville Marriner, Myung Whun Chung and has been invited to give Master-Classes in Germany, Japan, China and Taiwan.
In May 2013 Philippe Tondre performed the German Première of James MacMillan's Oboe Concerto under the baton of the composer and accompanied by the South West Radio Symphony Orchestra Stuttgart. In September 2013 he played the Japanese Première of György Ligeti's Double Concerto for Flute, Oboe and Orchestra with Jacques Zoon (flute).
In 2012, after his successful debut at the Beethoven Festival Bonn, Philippe Tondre was awarded the prestigious Beethoven Ring Prize. In June 2013 he made his debut in the Philharmonie in Berlin playing Bohuslav Martinu's Concerto for Oboe accompanied by the German Symphony Orchestra.
Lech Antonio Uszynski
Viola
Lech Antonio Uszynski has come to prominence as one of the most exciting and versatile viola players of his generation thanks to what the Badische Zeitung has described as his "thoughtful playing, which banks not on showy effects but on timbre, texture and emotion". As a soloist and chamber musician he has played in concert halls that include the Philharmonie Berlin, the Elbphilharmonie in Hamburg, the Berlin Konzerthaus, the Zurich Tonhalle, the Vienna Konzerthaus, London's Wigmore Hall, Seoul Arts Center and Tokyo's Suntory Hall. He is also a regular guest at international festivals. He has been the Stradivari Quartet's viola player since 2010 and enjoyed great acclaim with this ensemble on international tours throughout Europe, Asia and America. Additionally, to his performance as chamber musician and soloist, he has been invited in the past years as guest principal Viola by the Royal Stockholm Philharmonic, the Lucerne Festival Strings and other Ensembles. 
2019 his solo album "Progetto Gibson" was released by RCA Red Seal (Sony Classical). In 2018 his quartet released two CDs (Works by Schumann & Schubert) for RCA Red Seal (Sony Classical). 
As a chamber musician he has worked with artists such as Vilde Frang, Lars Vogt, Christian Tetzlaff, Antoine Tamestit and many others. In addition to his wide stylistic range as a performer, he is also passionate about teaching. Lech Antonio Uszynski is fortunate to have been playing from 2010-2017 on the "Gibson" Stradivari 1734. Currently he performs on a rare Viola made in 1690 by Hendrick Willems.
Lars Vogt
Piano
Lars Vogt has established himself as one of the leading musicians of his generation. Born in the German town of Düren in 1970, he first came to public attention when he won second prize at the 1990 Leeds International Piano Competition and has enjoyed a varied career for nearly twenty-five years. His versatility as an artist ranges from the core classical repertoire of Mozart, Beethoven, Schumann and Brahms to the romantics Grieg, Tchaikovsky and Rachmaninov through to the dazzling Lutoslawski concerto. Lars Vogt is now increasingly working with orchestras both as conductor and directing from the keyboard. In September 2015 he took up his post as Music Director of Royal Northern Sinfonia at Sage, Gateshead reflecting this new development in his career. Highlights of their inaugural season together include presenting the series' 'Reclaiming Mozart' and 'Sibelius and the Musical North' as well as various chamber projects.
During his prestigious career Lars Vogt has performed with many of the world's great orchestras including the Royal Concertgebouw Orchestra, Berlin Philharmonic, Deutsches Symphonie-Orchester Berlin, Dresden Staatskapelle, Vienna Philharmonic, London Philharmonic, London Symphony Orchestra, New York Philharmonic, Boston Symphony and Orchestre de Paris. He has collaborated with some of the world's most prestigious conductors including Sir Simon Rattle, Mariss Jansons, Claudio Abbado and Andris Nelsons. His special relationship with the Berlin Philharmonic has continued with regular collaborations following his appointment as their first ever "pianist in Residence" in 2003/4.
In June 1998 he founded his own chamber festival in the village of Heimbach near Cologne. Known as "Spannungen", the concerts take place in an art-nouveau hydro-electric power station. Its huge success has been marked by the release of ten live recordings on EMI.
A passionate advocate of making music an essential life force in the community, in 2005 Lars Vogt established the educational programme "Rhapsody in School" which brings his colleagues to schools across Germany and Austria, connecting children with inspiring world-class musicians.
Philipp Zeller
Bassoοn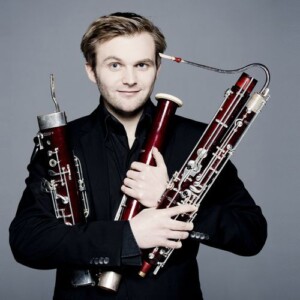 Philipp Zeller is principal bassoonist with the Staatskapelle Dresden. In addition to his orchestral work he is a passionate chamber musician. In 2006 Zeller co-founded 'Trio Elego', an extraordinary combination of clarinet, bassoon and piano. The trio has performed at a number of chamber music festivals throughout Germany. In 2012, Genuin released the Trio's debut CD. Entitled 'Cosmopolitan', it features works by Schnyder and Glinka.
Zeller regularly performs with chamber musicians including Gidon Kremer, Eduard Brunner, Tatjana Becker-Bender and Louise Pellerin. Over the past decade he has been a regular guest at important music festivals.
He embarked on a solo and chamber music career in 2003 after becoming the first bassoonist in 25 years to win the top prize at the prestigious German Music Competition (Deutscher Musikwettbewerb). Soon afterwards, he released a solo CD at Ars Musici and has since performed at numerous festivals including Ludwigsburger Schlossfestspiele and Festival Mitte Europa. Zeller's unique talent has been recognized by renowned competitions such as "Pacem in Terris", Bayreuth, Markneukirchen, "Prager Frühling" and a first prize at the International Double Reed Society's Gillet-Fox-Competition. As a soloist, Zeller has performed with the Rundfunk-Sinfonieorchester Berlin, the Beethoven Orchester Bonn, the Dresdner Kapellsolisten and the Capella Istropolitana. In 2015 he performed the world premier of the bassoon concert composed by Daniel Schnyder with the Dresdner Philharmonie.
Zeller studied under Prof. Albrecht Holder and Prof. Dag Jensen. While doing so he was engaged as solo bassoonist at the Jenaer Philharmonie and later with the Bochum Symphony Orchestra. Later, Zeller joined the Rundfunk-Sinfonieorchester Berlin, then Cologne's Gürzenich Orchester and the Dresdner Philharmonie where he was engaged until moving to the Staatskapelle Dresden. Philipp Zeller is teaching at the University of Music Würzburg.